Return to Headlines
Eisenhower MS Announces Second Marking Period Honor Rolls 
Eisenhower MS Announces Second Marking Period Honor Rolls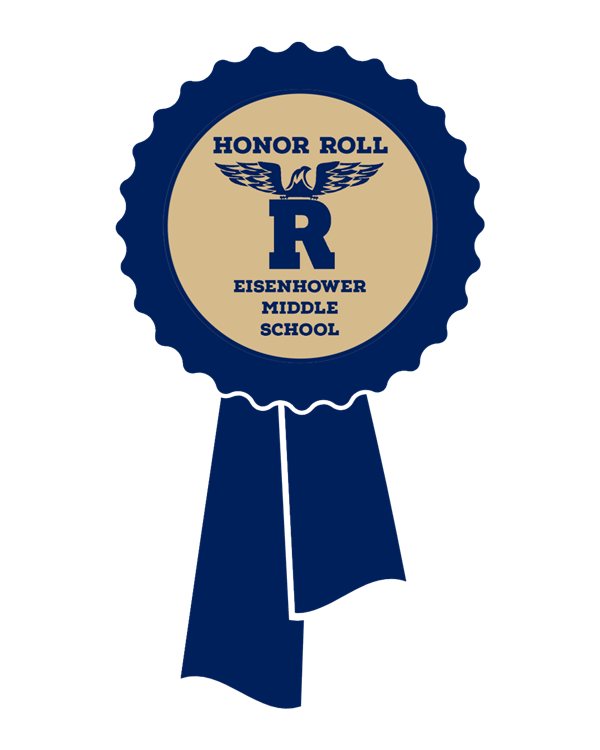 ROXBURY, NJ (February 12, 2021) – Eisenhower Middle School announces the students who have earned High Honor Roll and Honor Roll for the second marking period of the 2020/2021 school year.
Students must have earned all A's on their second marking period report card to qualify for high honor roll. Students must have a combination of A's and B's on their second marking period report card to earn the status of honor roll.
7th Grade High Honor Roll:
Madyson Adonis, Valentina Ambra, Madelynn Anderson, Eva Araujo, Fernando Atanacio Basaldua, Gabrielle Baron, Logan Batsch, Soham Bhagavatula, Vincent Bitetto, Alyssa Bukosky, Gianna Capriglione, Genesis Cepeda, Sergio Chico, Addison Christian, Isabella Contreras, Juan Correa Gutierrez, Ilana Cuskie, Isabella DaCosta, George Dauch, Tyler Denis, Ethan Everett, Colleen Feeney, Jack Feind, Alexander Fullam, Michael Geary, Jordan Gilfillan, Wyatt Glasser, Taylor Gutowski, Stephanie Joseph Cabezas, Jonah Kali, Franco Leon, Meghan Lockman, Jade Lu, Isabella Melore, Jenifer Meyer, Caleb Jonathan Modesto, Juliann Mora, Natalie Novillo, Stephanie Opalka, Olivia Oxenstein, Henna Patel, Amanda Pieklo, Aaron Pineiro, Alexander Potocki, Abbie Sophia Rattay, Catherine Rittger, Valentina Rosario, Theresa Rosas, Halie Rosenfeld, Alexa Rossi, Ava Sabella, Sophie Sanders, Mia Scalamoni, Taylor Schauble, Megan Schmidt, Caden Scire, Luigi Spezza, Cymone Stephen, Katrinka Sullivan, William Sullivan, Juventino Torres, Lydia Uhlman, Savannah Valenzuela, Gray Venos, Kevin Vo, and Shawn Wu.
7th Grade Honor Roll:
Matthew Adonis, Reishel Alvarado, Laela Ambrosi, Mia Bacalhau, Robert Baumann, Thushara Biju, Michael Borelli, Conrad Boyle, Haulden Burke, Carmella Calderaro, Vaishnavi Canakala, Gabriella Chirico, Savannah Cirella, Finnegan Coakley, Rebecca Corrado, Makenzie Crist, Tyler Curtis, Marissa D'Ambrosi, Nicolas Dabrowski, Mariana Damelines Obregon, Madison DeFalco, Charley DeRocco, Kaycie Falcone, Gabriel Farkas, Logan Fragoso, Cavan Gault, Paul Hakkenberg, Gianna Holness, Tyler Honig, Isabella LoScalzo, Paige Lohmus, Kayla Mackey, Veer Mangat, Keira McDonnell, Matthew McKenna, William Meribe, Nathan Milun, Julian Munoz, Reva Nakka, Matthew Navarra, Michael Nelson, Dang Nguyen, Ryan Nguyen, Jeff Opalka, Mona Patel, Michael Paxos, Vanessa Pennella, Ava Pennisi, Theresa Nicole Peredo, Lily Phelan-Fonseca, Hannah Philips, Rinora Ramadani, Trace Roberts, Haydn Salmon, Jack Scalfani, Jada Scalfani, Maria Schnabel, Chase Skellenger, Emily Snyder, Brody Sonzogni, Tatiana Suarez, Chai'yen Sullivan, Mason Terantino, Vy Tran, Aubrey Tummino, Julianna Uccello, Breena VanHook, Eduardo Vargas, John William Varhaul, and Nina Watson.
8th Grade High Honor Roll:
Mikayla Allen, Haley Amadori, Abigail Amaty, Rianna Attieh, Adam Behrens, Czar Joshua Beloso, Sarah Biczak, Giada Campiglia, Tyler Chen, Tyler Colucci, Tyler Consentino, Addison Crysler, Ella Desjardins, Jake Donnelly, Jaidyn Falcone, Jessica Fedo, Raelyn Fincke, Daniel Fischer, Jason Gabrielson, Daphne Gallagher, Katherine Gartner, Brady Giammarino, Gracie Giammarino, Isabella Gil, Amy Goroveci, Michael Guadagnino, Dawson Guerard, Charles Hand, Ayla Hart, Kaleigh Howell, Saketh Karri, Julia Katz, Sarah Kein, Amanda Kendall, Trevor Klapmuts, Jaiden Lenihan, Cassandra Maningo, Kate McDougal, Isabella McHugh, Jalene Molina, Matthew Neil, Tara O'Keefe, Hadley Padfield, Victoria Pisciotto, Isabella Potillo, Chloe Ramella, Ryan Reonieri, Terence Richards, Madison Roberts, Vincent Romano, Joseph Ronchetta, Justin Smith, Lauren Snoke, Gregory Sottile, David Spatz, James Stewart, Michael Stigliano, Amanda Torres, Rebecca Tso, Ryan VanZile, Vineet Varghese, Nicole Velasquez, Anuj Vyas, Christine Wardell, Jake White, Landon Whitney, Calista Wohltman, Modna Yeboah, and Aleksander Zyskowski.
8th Grade Honor Roll:
Liam Aretz, Lena Bacalhau, Nadeem Bakr, Juan Mateo Barraza Agama, Gianna Benedetto, Katie Caron, Jocelyn Castaneda, Kendall Clark, Samantha Curtis, Jason Dasappan, James DeChristofano, Kaitlyn Duras, Makenzie Fischer, Ashley Friedella, Taylor Gallagher, Edward Garcia, Gavin Gardner, Brody Glazer, Isabella Godoy, Yuriy Hrytsay, Gavin Hunt, Trinity Hunter, Ryan Johannessen, Justin Katz, Kristina La, Aryan Lad, Sofia Laurie, Jack Lieberwirth, Vito Martinelli, Ava McDonald, Gracie Miceli, Michael Mineo, Michael Ohene-Ologo, Eliana Okun, Sophia Olives, Samantha Pavese, Kyle Phillips, James Ratigan, Kalisa Roach, Miah Rodriguez, Amara Ruano, Andrew Sanchez, Ryan Scalfani, Anthony Schnabel, Nina Seals, Anthony Sessa, Shayne Spiteri, Ethan Statlander, Alejandro Tabares-Giraldo, Alysa Talmadge, Alexandria Tasnady, Ashleigh Tasnady, Evan Tusa, Jalen Valdes, Jenna VanHouten, Tyler Veltre, Jasmine Victor, Gianna Weah, Ava Weinberg, Allison Yiu, and Dante Zanni.
LOGOS ATTACHED (courtesy of Roxbury Public Schools)
###
For more information, contact: Roxbury Community School/Community Relations Coordinator Ann Rhodes at arhodes@roxbury.org or 973-584-7699.