Return to Headlines
Eisenhower Middle School Designated as a New Jersey School to Watch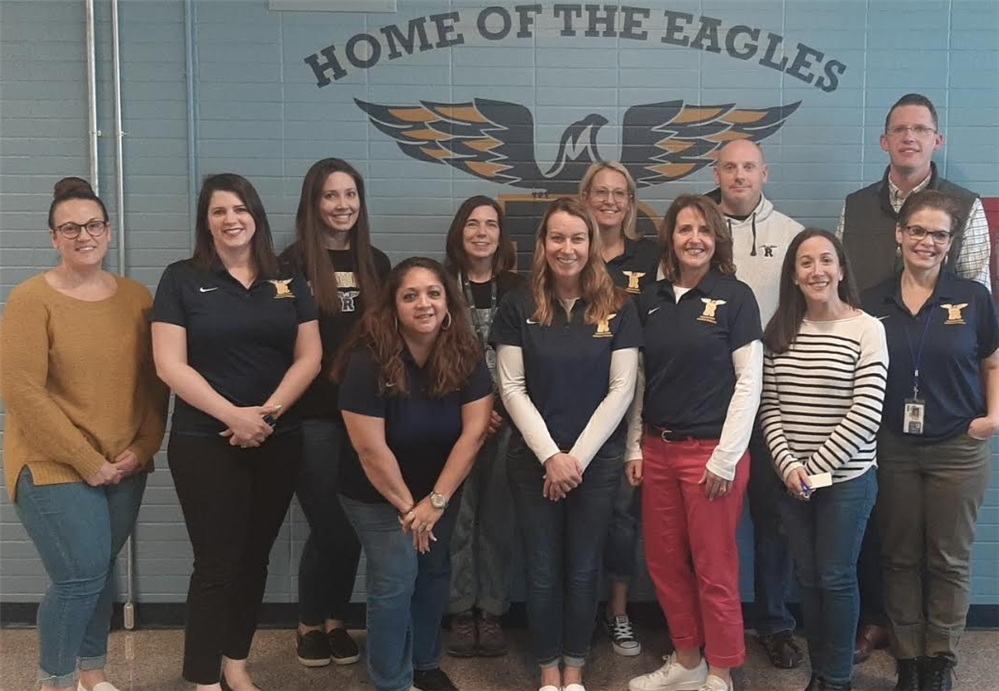 Eisenhower Middle School Designated as a New Jersey School to Watch
ROXBURY, NJ (March 17, 2022) – Eisenhower Middle School in Roxbury, NJ joined the ranks of a select group of just 14 middle schools in New Jersey to achieve the designation of a New Jersey School to Watch. Click here to watch the announcement video from NJAMLE.
For EMS, this process was four years in the making starting under the then leadership of Principal Dominick Miller. The Eisenhower faculty and staff completed an online New Jersey Schools to Watch Self-Study and Rating Rubric. A critical review of the survey results led to the formation of a New Jersey Schools to Watch Leadership Committee, which included teachers, counselors, supervisors, and building administrators.
Over the past four years, including changes in leadership with Paul Gallagher taking over as Principal and Jessica Swaim as Assistant Principal, this committee continued to work together to plan, implement, and evaluate school-wide initiatives such as an Advisory program, Responsive Classroom, Readers Workshop, interdisciplinary units, and master schedule revisions. At the same time, student and parent committees were assembled to collect additional feedback and input on these and other programs at EMS.
All of this hard work culminated in a full-day site visit on February 28th with a team of middle-level leaders and educators from across the state visiting EMS. During this visit, students, teachers, and families had the opportunity to share experiences and field various questions from the New Jersey Schools to Watch site visit team.
Ultimately, EMS was selected for this recognition due to its commitment to academic excellence, developmental responsiveness, social equity, and a commitment to organizational structures and processes that provide all students a pathway to success.
Moving forward, this designation connects Eisenhower Middle School to other high-performing middle schools in the state to share best practices with one another. Other Schools to Watch in our area include Randolph Middle School, Black River Middle School, Mountain View Middle School, and Byram Township Intermediate School.
EMS Principal Paul Gallagher shared, "We are incredibly proud of Eisenhower's faculty and staff for achieving this well-deserved distinction. Our teachers, specialists, and support staff work incredibly hard to identify and address the ever-changing needs of the whole child. Everyone is fully committed to the students, families, and to each other. This togetherness has been essential in helping us navigate these past two years, and it will remain essential as we face whatever the feature has in store for us next."
The Schools to Watch distinction carries a three-year term, at which point EMS will need to re-apply and demonstrate that it has maintained a positive trajectory of continuous improvement.
About New Jersey Schools to Watch:
Founded in 1999, the New Jersey Schools to Watch program seeks to identify and connect high performing middle schools. Schools to Watch possess comprehensive academic and extracurricular programs, provide equitable access to learning for all students, respect student needs and interests, and are committed to professional growth and continuous school improvement.
PHOTO ATTACHED (courtesy of Eisenhower Middle School)
###
For more information, contact: Roxbury Community School/Community Relations Coordinator Ann Rhodes at arhodes@roxbury.org or 973-584-7699.
ABOUT ROXBURY PUBLIC SCHOOLS
Roxbury Public Schools is a K-12 school district preparing the children of today for tomorrow. As a dynamic and thriving district, in partnership with a supportive and collaborative community, Roxbury Public Schools inspires and empowers all learners to flourish as ethical and global citizens in the 21st century. The district serves students throughout Roxbury Township, New Jersey, including the areas of Landing, Kenvil, Succasunna, Ledgewood, Mount Arlington, Port Morris, Flanders, and Wharton. Connect with us online at www.roxbury.org or on Facebook at www.facebook.com/RoxburyPublicSchools.