Return to Headlines
Eisenhower MS Announces Third Marking Period Honor Rolls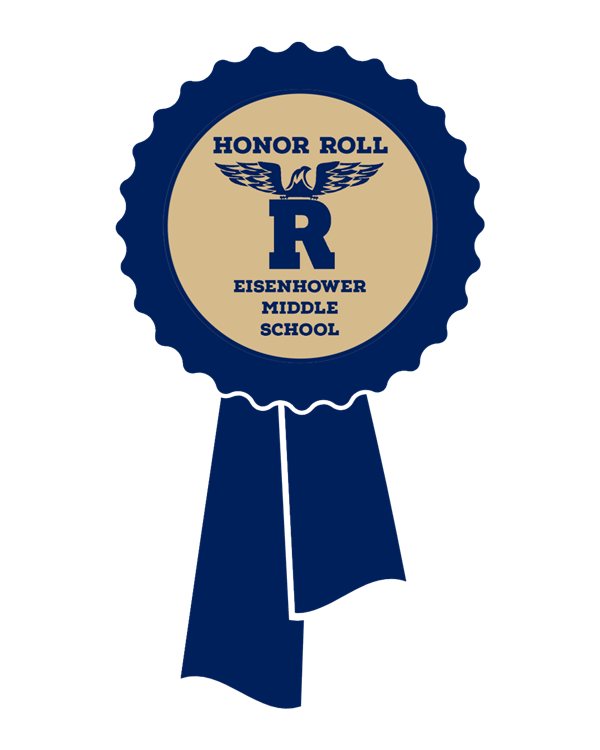 Eisenhower MS Announces Third Marking Period Honor Rolls
ROXBURY, NJ (April 29, 2022) – Eisenhower Middle School announces the students who have earned High Honor Roll and Honor Roll for the third marking period of the 2021/2022 school year.
Students must have earned all A's on their third marking period report card to qualify for high honor roll. Students must have a combination of A's and B's on their third marking period report card to earn the status of honor roll.
7th Grade High Honor Roll:
Susana Albarado, Ella Allert, Samantha Amaty, Maya Anikiej, Dimitri Arcentales, Gilbert Asuncion, Devon Ballo, Maxwell Barton, Gianna Benfatti, Gianna Borelly, Derek Bortnick, Brady Capko, Elena Cassella, Collin Chan, Kimberly Chavez-Mateo, Sophia Colon, Carlee Contillo, Sara Conzen, Frederick Correa, Erianna De Los Santos, Nicolas Decker, Giovanni Del Rosario, Daniel DiCarlo, Gaige Galioto, Steven Gonzalez, Ryan Healy, Alexa Howell, Marko Hrytsay, Emily Iadarola, Haansika Jaganathan, Sarah Jurgensen, Amanda Katz, Ryna Khan, Emily Kocoski, Shane Kreel, Phoebe Lalo, Lily Large, Caleb Lindsley, Muskaan Madahar, Avery Maida, Paul Marcianti, Charlotte Maude, Nolan McAdams, Jacqueline McDermott, Luke McDougal, Mia Mitrevska, Jaedon Montalvo, Julia Nassan, Dylan O'Keefe, Cadence Palen, Sean Park, Sarah Pisarczyk, Vanessa Polidoro, Carl Ratigan, Jaedon Reilly, Griffin Reynolds, Diego Sabando, Emery Scavino, Emma Schepisi, Payton Schiesl, Sophia Seals, Fotis Seretis, Louis Shadiack, Patrick Shivas, Cecilia Sosa, Kathleen Tusa, Zachary Vacca, Evan Wanamaker, Ava Weah, Gregory Webber, Nicholas White, Adriana Wilson, Annabelle Wilson, Olivia Wilson, Delaina Wohltman, and Cindy Yeboah
7th Grade Honor Roll:
Aria Abato, Nicholas Alston, Zachary Amaty, Ara Ameri, Luca Argenziano, Brady Batsch, Aiden Blanchard, Brayden Bolich, Bianca Bongiorni-Galindo, Anisa Brown, Santiago Camargo, Carina Campos, Kayce Caron, Adrianna Carral, Dominick Cassella, Ashley Cunha, Thomas DeChristofano, Mya DeKorte, Dominick DeMarco, Justin Delgado, Giovanna DiTaranto, Matthew Donnelly, Rebekah Ellison, Adam Eresman, Timothy Farley, Jayden Flynn, Shane Gallagher, Daniel Garces, Derek Gatto, Ryan Geller, Maiya Godoy, Cara Goldstein, Syed Hassany, Olivia Healy, Jonathan Hernandez, Aidan Jachera, Shay Jackson, Alabama Jacobus, Tyler Johnson, Logan Knapp, Meghan Lynch, Erico Meier Magat, Jeremy McCabe, Kaylee Medina, Josue Molina, Nolan Monaghan, Elijah Mora, James Murphy, Christian O'Shea, Delaney Opper, Desiree Padilla, Anthony Palombit, Alyssa Pavese, Alexander Piazza, Gavin Prendergast, Elez Rama, James Ramella, Logan Reonieri, Zachary Riska, Morgan Roach, Julian Rojas Jaramillo, Ruben Romero, Avery Sanabria, Thomas Sanders, Thomas Sargeant, Lauren Simmerano, Kira Smith, Violet Stein, Margaret Stucky, Ashley Talavera, Noah Talmadge, Isabella Tanner, Kiley Thogode, Joshua Tidwell, Michael Tomassi, Mirially Torres, Gianna Tortorello, Nora Vitcusky, Beau Wawrin, Evan White, Avianna Zanni, Vincent Zanni, and Gavin Zecevic
8th Grade High Honor Roll:
Madyson Adonis, Matthew Adonis, Valentina Ambra, Madelynn Anderson, Eva Araujo, Evelyn Aurich, Soham Bhagavatula, Matthew Bianco, Thushara Biju, Conrad Boyle, Sophia Chirico, Savannah Cirella, Hailey Clemente, Isabella Contreras, Isabella DaCosta, Nicolas Dabrowski, George Dauch, Madison DeFalco, Ethan Everett, Gabriel Farkas, Colleen Feeney, Jack Feind, Xavier Fernandez, Emma Francis, Taylor Gutowski, Stephanie Joseph Cabezas, Jade Lu, Veer Mangat, Breanna McGowan, Isabella Melore, Caleb Jonathan Modesto, Juliann Mora, Reva Nakka, Natalie Novillo, Jeff Opalka, Olivia Oxenstein, Henna Patel, Hannah Philips, Aaron Pineiro, Lilliana Price, Abbie Sophia Rattay, Valentina Rosario, Alexa Rossi, Emily Rowe, Natalie Rugel, Ava Sabella, Sophie Sanders, Mia Scalamoni, Taylor Schauble, Megan Schmidt, Maria Schnabel, Caden Scire, Chase Skellenger, Cymone Stephen, Vy Tran, Lydia Uhlman, Breena VanHook, Eduardo Vargas, John William Varhaul, Gray Venos, Kevin Vo, Nina Watson, and Shawn Wu
8th Grade Honor Roll:
Mia Amicucci, Fernando Atanacio Basaldua, Mia Bacalhau, Gabrielle Baron, Logan Batsch, Robert Baumann, Brianna Benanti, Vincent Bitetto, Michael Borelli, Brady Boryeskne, Jennifer Buczynski, Alyssa Bukosky, Carmella Calderaro, Vaishnavi Canakala, Gianna, Capriglione, Genesis Cepeda, Addison Christian, Kenneth Christie, Nicholas Colatrella, Rebecca Corrado, Geanna Hailey Cudiamat, Tyler Curtis, Ilana Cuskie, Mariana Damelines Obregon, Tyler Denis, Logan Domsic, Colin Donnelly, Nikolas Edelman, Kaycie Falcone, Alexander Fullam, Cavan Gault, Maria Gaviria Mejia, Michael Geary, Jordan Gilfillan, Giancarlos Gonzalez, Paul Hakkenberg, Holly Johnston, Jonah Kali, Franco Leon, Ashley Lewis, Isabella LoScalzo, Meghan Lockman, William Meribe, Jenifer Meyer, Nathan Milun, Matthew Navarra, Ryan Nguyen, Mercy Omoirawua, Stephanie Opalka, Alejandro Ortega-Lopez, Mona Patel, Christos Paxos, Vanessa Pennella, Ava Pennisi, Theresa Nicole Peredo, Yaroslav Perez, Lily Phelan-Fonseca, Amanda Pieklo, Elvana Rama, Elizabeth Ricucci, Justin Rios, Catherine Rittger, Nathalie Rivera, Trace Roberts, Justin Rosa, Jack Scalfani, Peyton Seader, Emily Snyder, Brody Sonzogni, Luigi Spezza, Tatiana Suarez, Juventino Torres, Julianna Uccello, and Amina Yafai
LOGO ATTACHED (courtesy of Roxbury Public Schools)
###
For more information, contact: Roxbury Community School/Community Relations Coordinator Ann Rhodes at arhodes@roxbury.org or 973-584-7699.