Return to Headlines
LRS Receives $5,000 Donation from New Burlington Store

Lincoln/Roosevelt School Receives $5,000 Donation from New Burlington Store
ROXBURY, NJ (March 19, 2021) – Burlington Stores, the national off-price retailer, through its partnership with the national non-profit organization, AdoptAClassroom.org, has generously donated $5,000 towards school supplies to Roxbury Township's Lincoln/Roosevelt School in celebration of its new store now open at The Shops at Ledgewood Commons in Roxbury Township.
A representative from AdoptAClassroom.org contacted school administrators and helped to secure the donation for Lincoln/Roosevelt. The $5,000 donation will be distributed evenly to each teaching staff member at the school to use in their classrooms.
Building and district-level administrators were on hand this morning at the store to take part in Burlington's official ribbon-cutting ceremony.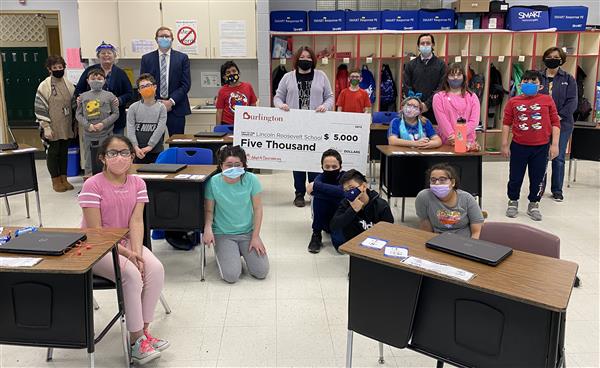 "As the Superintendent of Roxbury Public Schools and on behalf of the Board of Education and Administration, we would like to welcome Burlington to the community. Roxbury is a special place where we work to support each other and Burlington has already illustrated their commitment to the students with their generous grant of $5,000 to the Lincoln/Roosevelt School. We are certain our teachers will make good use of the funds to differentiate instruction in their classrooms and we are grateful for the partnership with Burlington," said Loretta Radulic.
"Our teachers are so excited to purchase the tools they need, whether teaching in the classroom or from home. We are thankful for the support we received from Burlington and AdoptAClassroom.org," shared LRS Principal Chris Argenziano. "Through this process, we learned that each time Burlington opens a new store, Burlington celebrates by adopting and funding a local elementary school in the market. Burlington is committed to supporting education through its partnership with AdoptAClassroom.org and we are fortunate to be the recipients of their generosity."
After the ribbon cutting at the new Burlington Store, the LRS administrators, Argenziano and Assistant Principal Brian Hamer brought back the large check and shared it with their students and staff.
Argenizano and Hamer made a special trip to Theresa Trimmer's fifth-grade class to make the announcement. This class was selected as they have collected the most cans so far for the school's food drive. Argenziano shared with the class, "You are caring kids who are giving back to your community through our food drive. Your class has contributed the most to the drive so far, so like Burlington Stores giving back to our school community, you are giving back as well."
Burlington Store is now open at The Shops at Ledgewood Commons at 461 Route 10 East in Ledgewood, NJ.
About Burlington Stores
Burlington Stores, Inc., headquartered in New Jersey, is a nationally recognized off-price retailer with Fiscal 2019 net sales of $7.3 billion. The Company is a Fortune 500 company and its common stock is traded on the New York Stock Exchange under the ticker symbol "BURL." The Company operated 739 stores as of the end of the second quarter of Fiscal 2020, in 45 states and Puerto Rico, principally under the name Burlington Stores. Burlington offers great values on a wide assortment of merchandise – with products for ladies, men, kids, baby, and the home. Every time they shop, Burlington customers can find new and amazing deals on their favorite brands – at up to 60% off other retailers' prices. For more, visit www.Burlington.com and follow us on Instagram, Facebook, and Twitter.
About AdoptAClassroom.org
We are a national, award-winning nonprofit that advances equity in education by providing the most flexible and accountable funding for PreK-12 teachers and schools throughout the U.S. Our proprietary, easy-to-use education fundraising platform helps teachers, principals, and administrators give every child the tools they deserve to succeed in school. Since 1998, we have raised $50 million and supported 5.5 million students. As a 501(c)(3) organization, we hold a 4-star rating from Charity Navigator and a platinum rating of transparency from GuideStar. For more information, or to make a donation, please visit www.AdoptAClassroom.org.
PHOTO ATTACHED (courtesy of Roxbury Schools)
###
For more information, contact: Roxbury Community School/Community Relations Coordinator Ann Rhodes at arhodes@roxbury.org or 973-584-7699.