Return to Headlines
Kennedy School Celebrates National Pizza Day

Kennedy School Celebrates National Pizza Day
ROXBURY, NJ (February 19, 2021) – Teachers Amber Davis and Lorey Deeb at Kennedy Elementary School had some fun last week with their students on National Pizza Day with cross-curricular activities.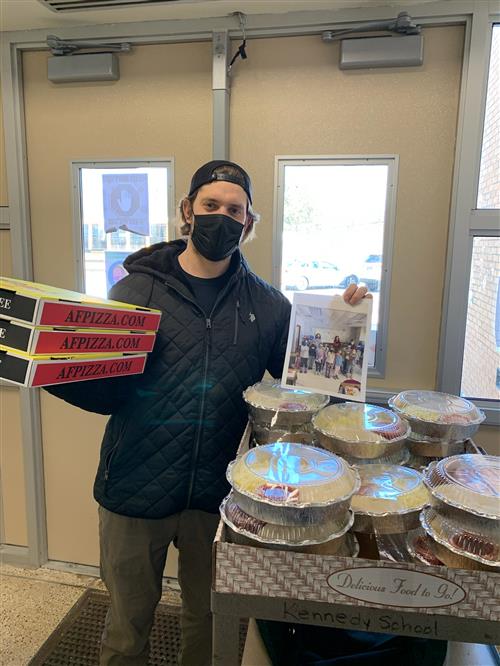 The students at Kennedy School had some educational fun on Wednesday, February 10th, National Pizza Day, thanks to Anthony Franco's Pizza located at 274 Rt 10 West in Succasunna. The students participated in cross-curricular activities that all related to pizza for the day. Activities included math, writing, reading, science, and their specials to make the day a unique and memorable experience.
Davis and Deeb are teaching their classes considering the whole child. With great excitement, students created step-by-step descriptive essays while teaming up with Tom Ptasznik of Anthony Franco's. He provided a video of him making pizza at the restaurant and live steamed with the students to participate in a Q & A session on "How to Make a Pizza".
Students and staff at the school were also treated to pizza by Anthony Franco's of Roxbury to make the day just a little more memorable as the students smelled the basil and tomato aroma.
Kennedy Elementary School is thankful for this partnership and for making National Pizza Day memorable and exciting for everyone at Kennedy School.
PHOTO ATTACHED (courtesy of Kennedy School)
###
For more information, contact: Roxbury Community School/Community Relations Coordinator Ann Rhodes at arhodes@roxbury.org or 973-584-7699.
ABOUT ROXBURY PUBLIC SCHOOLS
Roxbury Public Schools is a K-12 school district preparing the children of today for tomorrow. As a dynamic and thriving district, in partnership with a supportive and collaborative community, Roxbury Public Schools inspires and empowers all learners to flourish as ethical and global citizens in the 21st century. The district serves students throughout Roxbury Township, New Jersey, including the areas of Landing, Kenvil, Succasunna, Ledgewood, Mount Arlington, Port Morris, Flanders, and Wharton. Connect with us online at www.roxbury.org or on Facebook.