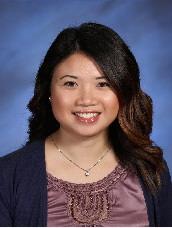 Phone: 973-584-2973 x2006
Email:
Degrees and Certifications:
Mrs.

Caroline Lomuntad

Work Experience: Before becoming a School Counselor, I worked as a Service Specialist at a non-profit organization that provided employment opportunities to adults with disabilities. With that experience, I realized how much I was drawn to listening to each person's story - their interests, hobbies, struggles, and successes. From there, I decided to pursue counseling to continue to help and support others and be a listening ear. Working as a School Counselor has been such a fulfilling experience. I have grown so much professionally and personally. It has been a pleasure working at EMS all these years - getting to know our students and families and working with wonderful faculty and staff.

Philosophy: I believe that a person's identity is shaped by several factors including our relationships, culture, families, and unique experiences. I think life is meant to be shared and experienced together. For this reason, building positive and uplifting relationships is so important. I keep in mind this quote from Maya Angelou, "At the end of the day people won't remember what you said or did, they will remember how you made them feel."

Who Am I: I love spending time with my husband and three young children. My family and faith have determined, to a great extent, my choices and identified purpose in life. When I'm not out and about with my family, you will probably find me playing with the kids, watching my shows, or listening to podcasts or music. I also love to travel. One of the best traveling experiences I had was going on a Mediterranean cruise and waking up in a different country each day. My next traveling adventure is to go back to the Philippines with my family and visit my relatives there.