Return to Headlines
Roxbury HS Announces First Marking Period Honor Rolls
Roxbury HS Announces First Marking Period Honor Rolls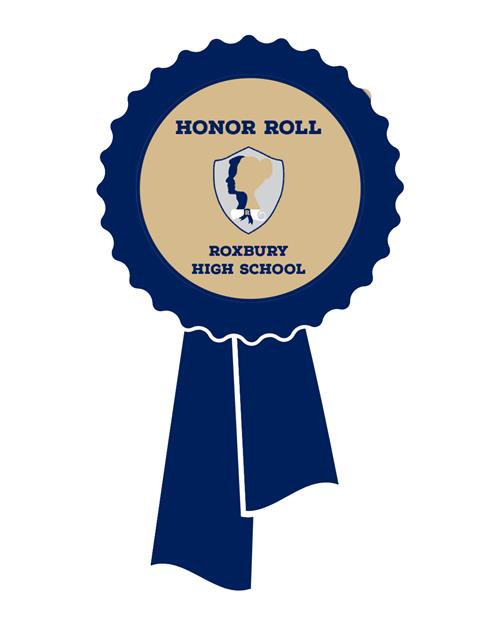 ROXBURY, NJ (December 7, 2021) – Roxbury High School announces the students who have earned High Honor Roll and Honor Roll for the first marking period of the 2021/2022 school year.
Students must have earned all grades 90 or above on their first marking period report cards to qualify for high honor roll and students must have earned all grades 80 or above on their first marking period report cards to earn the status of honor roll.
High Honor Roll
Grade 9
Rianna Attieh, Nadeem Bakr, Adam Behrens, Katie Caron, Kendall Clark, Tyler Colucci, Anya Sophia De La Pena, Kaitlyn Duras, William Fedorchak, Gavin Gardner, Isabella Godoy, Amy Goroveci, Yuriy Hrytsay, Oksana Hryvnak-Sukharyna, Priya Kashyap, Julia Katz, Aidan Kellett, Elizabeth Kelly, Elysha Melaine Magat, Cassandra Maningo, Kate McDougal, Matthew Neil, Tara O'Keefe, Ryan Reonieri, Vincent Romano, Gregory Sottile, Nicholas Spivak, James Stewart, Ryan VanZile, Vineet Varghese, Anuj Vyas, Christine Wardell, Landon Whitney, Anthony Zheng, and Aleksander Zyskowski
Grade 10
Samantha Angle, Colin Behrens, Tyler Brooks, Thomas Bukosky, Nicole Cunha, Sebastiano DeMarco, Jadon DeRosa, Christopher DiTrolio, Hailey Errichiello, Christopher Esposito, Alyssa Gilchrist, Priscilla Gorgas, Julia Groschopp, Aizik Guevara, Olivia Hachey, Kendra Haughey, Kylie Haughey, Amanda Hellner, Laura Izzi, Lindsey Knapik, Jamie Kudler, Rory Laffey, Brandon Latella, Luke LeSueur, Dominick Maltese, Nicholas Maltese, Justin Masi, Daniella McMillin, William Miller, Angelina Moschella, Isabella Negron, Suraiya Perrett, Ejona Rama, Matthew Rattay, Riley Shivas, Claire Silfies, McKenna Stierch, Veronica Torres, and Diego Vargas
Grade 11
Owen Campbell, Jaden Chan, Maximus Corsi, Kaelynn Andreah Cudiamat, Mia Francis, Hunter Gabloff, Leo Giammarino, Kaitlyn Kellett, Filip Lazoroski, Edward Lederer, Alex Maldonado, Lindsay Monro, Brian Patoilo, Madalyn Pflug, James Rowe, Wenner Sabando, Alexa Scalfani, Thomas Simmerano, Caleb Squier, Luke Stanich, Kathryn Tam, Tanush Thaker, Kimberly Tso, Charlotte Wilkes, James Winters, and Ian Ziomek
Grade 12
Ashley Attieh, Michael Bang, Kryssa Bijelic, Francesca Bindel, Kaylee Chau, Kyle Corrado, Joseph Di Domenico, Danielle Doherty, Luke Dolinoy, Justin Dougherty, Jaclyn Ezra, Diego Fernandez, Ryan Gaydos, Jaclyn Grady, Rylee Grenot, Matthew Hajel, Tori Hayeck, Chloe Hernandez, Christine Johnson, Karina Jones, Samantha Klinosky, Jesse Kooyenga, Andrew Kosinski, Charlotte Larkin, Samantha Lazzara, Christian Maroulis, Julia Mayor, Bleon Meta, Dominic Monfriedo, Nicholas Morales, Nia Mullengada, Michael Murphy, Brianna Nieves, Adeline O'Brien, Tasnim Omar Agha, Hailey Opper, Natalie Otto, Kate Parr, Alexander Randall, Michael Saladino, Anthony Sansone, Richard Segrave, Nathanial Skutnik, Diego Sosa, Kevin Stigliano, Peyton Sullivan, Madelyn Svenningsen, Joelle Tone, Aiden Toupet, Eliana Tumminello, Emma Weiss, Andrew Wilson, Sarah Wilson, Shane Yiu, and Christy den Engelsman
Honor Roll
Grade 9
Wolfgang Allu, Haley Amadori, Liam Aretz, Janelle Balcom, Juan Mateo Barraza Agama, Czar Joshua Beloso, Richard Biase, Nicholas Blehl, Aidan Boccher, Julian Bostedo, Joshua Botero, Jasmeen Butt, Murilo Candido Scaramal, Tyler Chen, Jason Dasappan, James DeChristofano, Nickolas Dearborn Di Andrea, Ella Desjardins, Anna Dittmar, Abigail Entel, Anthony Fedorchak, Raelyn Fincke, Jahel Franco, Emily Freeland, Jason Gabrielson, Katherine Gartner, Gracie Giammarino, Jacob Giammona, Isabella Gil, Brody Glazer, Samantha Green, Dawson Guerard, Paul Guettler, Michael Hackett, Ali Hagag, Charles Hand, Ayla Hart, Jenna Heiser, Gavin Hunt, Bianca Jackson, Ryan Johannessen, Maya Kalsi, Shawn Keenan, Sarah Kein, Amanda Kendall, Trevor Klapmuts, Dunavan Krause, Kristina La, Jaiden Lenihan, Vito Martinelli, Vavi Martucci, Ava McDonald, Christian Metje, Asher Metz, Michael Mineo, Jalene Molina, Julian Murillo, Anh Nguyen, Kha Nguyen, Eliana Okun, Sophia Olives, Austin Orr, Alexandra Perez, Kyle Phillips, Victoria Pisciotto, Melissa Pryce, Samuel Rippon, Daniel Ritacco, Kalisa Roach, Madison Roberts, Richard Rocha, Angel Rojas-Gallego, Joseph Ronchetta, Aidan Saladino, Skylar Skupienski, Benjaman Skutnik, Lauren Snoke, Michael Stigliano, Alysa Talmadge, Andres Tasama Restrepo, Alexandria Tasnady, Ashleigh Tasnady, Emma Tighe, Vinh Tran, Rebecca Tso, Evan Tusa, Ashley Urena, Matthew VanHouten, Tyler Veltre, Angela Viscardi, Gianna Weah, Ava Weinberg, Jake White, and Cayden Williams
Grade 10
Adisen Aemisegeo, Joaquin Algarra, Lucas Amenta, Yohamy Andino, Anna Anikiej, Julie Avery, Ege Barbaros, Katherine Becker, Tyler Benedetto, Robert Blakut, Kaylie Blanchard, Nancy Bogardus, Rebecca Borda, Conor Boryeskne, Evelyn Bowman, Nathan Byrne, Deven Campisi, Matthew Capko, Sheyenne Chalwell, Austin Christian, Ellison Coakley, Catherine Colatrella, Krystal Cole, Saniya Connor, Fredric Cottrill, Connor Cousineau, Ryan D'Agostino, Valeria Damelines Obregon, Grace De Aquino, Justin DeRosa, Mia Decker, Nicolas Del Rosario, Angelina Del Vicario, Ava Di Pasquale, Eric Dolinoy, Clara Donnelly, Andrew Elmasri, Giuliana Fernandez, Sean Finnan, Ethan Fisk, Madison Gargiulo, Juliana Geller, Karmen Giannikopoulos, Kelsey Gilfillan, Derek Gutowski, Allison Hand, Kayla Hernandez, Sophia Hidalgo Romero, Jinelle Hiraman, Ella Izzi, Elijah Kali, Aashka Kapadia, Renee Kilkeary, William Knapp, Zachary Kosinski, Angela Kovacs, Colby Lanager, Ava Lurachy, Angelo Mancuso, Norbert Martinez, Daniel McCarthy, Edward Miller, Christian Mobilio, Kaitlyn Murphy, Philip Mutone, Angelina Naso, Ryan Neumeyer, Tayla O'Connor, Aidan Ochoa, Sarah Olander, Reilly Opper, Juliana Osterman, Ava Parziale, Lila Pilkington, Brandon Pincus, Annabelle Plociniak, Isabella Pomroy, Shawn Rasizer, Dylan Reynolds, Colin Richter, Angelina Rivera, Angelina Riveros, Alexandra Roushinko, John Salitsky, Ryan Salitsky, Ailany Sanchez, Leah Schlam, Sienna Scholes, Breanna Sharpe, Emma Shluker, Sabrina Simpson, Christian Sokolowski, Joshua Soranno, Jacquelyn Sottile, Leah Stavitsky, Annika Szardenings, Alec Tabares-Giraldo, Michael Tanner, Eva Tillawi, Odon Wasielewski, Benjamin Weiss, Jared Weiss, Linda Yardolo, and Zuzanna Zyskowski
Grade 11
Makuta Allen, Sthacy Alvarado Granados, Brennan Andrews, Matthew Biczak, Anthony Blehl, Anna Bokor, Daniel Borrelli, Alexander Brinkman, Mohamad Buglisi, Ava Cacchiola, Alyssa Cambiotti, Noah Camp, Nancy Carreto Vasquez, Brandon Cassidy, Joseph Christel, Jayden Cooper, Ryan Corby, Brendan Day, Isabel Luisa De La Pena, Justin De Smet, Dezzarae DeJesus, Isabella Di Pasquale, Ahmad Dickinson, Elena Domin, Weston Edelman, Stephen Ellison, Janna Elmaghraby, Ashley Eng, Matthew Fischer, Justin Ford, Brian Galvin, Camila Gil, Justin Gilroy, Mark Gormley, Mark Graham, Emily Grodzki, Victoria Groschopp, Katarina Guerra, Isha Gullapalli, Lance Guticoll, Elizabeth Harrington, Lorie Horta, Saikal Imanalieva, Anthony Iuliano, Tyler Jarosz, Daniel Johnston, Isaiah Kali, Emily Kao, Olivia Keenan, Lauren Kein, Connor Kenworthy, Hunter Klapmuts, Tyler Kopp, Finn Krause, Ashley Lipchus-Wong, Emily List, Michael Lopez, Seanna Mahoney, Kaleigh Maloy, Emily Mangano, Angelina Marasco, Madison Marchesi, Ava Mastandrea, Cesar Maxwell, Kelly McDonald, Thomas McGlynn, William McPeek, Samantha Medina, Brandon Melo, Marlon Mendoza, Bryanna Mendoza Arias, Robert Douglas Meno, Danielle Meribe, Ava Milsom, Emma Milsom, Maximus Morris, Joseph Murphy, Ava Nack, Diya Narayan, Matthew Nassan, Paul Neff, Gianna Norris, Anthony Nunez, Matthew Oliveira, Ethan Olmsted, Sofia Kaitlyn Ong, Tyler Orban, Joshua Palumbo, Aditi Patel, Frank Pavese, Emanuel Perez Munoz, Tyler Peterson, Aranza Pimentel Perez, Rishab Rajesh, Michael Ratigan, Carina Rivera, Ryan Roddy, Lucas Roldan, Joseph Sabando, Justin Santos Mejia, Delaney Scalera, Kendra Sparano, Layne Stavitsky, Angelina Stigliano, Kevin Thumser, Elliot Uhlman, Emily Velasquez, Ashley Vitulli, Jenna Waldron, Alexa Wanamaker, Nicholas Weah, Darryn Wilfong, Timothy Wilk, Lindsey Yau, Sandra Yeboah, Johnny Zhu, and Stefen van Rossen
Grade 12
Sarah Allen, Nicolette Alstede, Erick Anzures, Jaylis Arcentales, Sedem Atadja, Khushi Bajaj, Dareen Bakr, Brandon Bang, Samuel Beale, Nicholas Bomersbach, Willow Bradley, Clayton Bryan, Kaylin Burns, Steven Burns, Caitlin Caccavella, Katherine Cammarata, Richelle Campbell, Isabella Campiglia, Natalie Cantagallo, Mia Canzonieri, Christian Castro, Cheyanne Cintron, Anthony Cleffi, Katrina Cobb, Brendan Coulthurst, Logan Cruz, Marjory DeOliveira, Kyle Dexter, Paige Doonan, Alexander Doty, Sara Farris, Ryan Fedorko, Cameron Fehsal, Skyler Fisk, Tyler Fox, Azalia Goitia, Emma Gorgas, Jason Guancione, Andrew Guevara, Ayaan Hassany, Christina Horton, Ethan Hunt, Steven Keane, Victor Keltos, Tyler Kennedy, Jawaria Khan, Mahad Khan, Eileen Kilkeary, Meghan Kilpatrick, Nicholas Kontozoglus, Joseph Kovach, Sydney Lanager, Ashley Lemmerman, Christian Macchio, Cameron Maresca, Shannon Massage, Matthew McClosky, Kaitlyn McGowan, Lauren McGowan, Thomas McMillin, Jayson Meribe, Brithany Mero, Alexis Merola, Jerilyn Meyer, Lia Milsom Matthew Mineo, Isabella Monacelli, Mariana Montoya, Miah Moore, Gehad Moustafa, Madeline Napeloni, Isabella Naso, Robert Neumeyer, Amy O'Halloran, Ari Okun, Matthew Olander, Samantha Olander, Callista Oliveira, Ryan Olsen, Kouji Onari, Gianna Osterman, Daniela Palmucci, Zena Paxos, Jayden Pennella, Brandon Perucki, Emma Pfleger, Vincent Picone, Kate Rice, Sarah Rice, Nicholas Rizzo, Kylie Roberts, Sierra Rogalsky, Samantha Rosario, Christopher Rubiano, Alexander Rugel, Vinay Sam, Liana Scalfani, Heather Schaab, Luke Schabel, Alexander Silva, Jonathan Sivertsen, Corey Smith, Michaela Sokolowski, Christian Soto, Caleb Stephen, Biagio Terranova, Michael Torrens, Russell VanHouten, Daniel Vargas-Jaramillo, Reese Wawrin, Nicholas Wdowiak, and Devin Weng
LOGOS ATTACHED (courtesy of Roxbury Public Schools)
###
For more information, contact: Roxbury Community School/Community Relations Coordinator Ann Rhodes or 973-584-7699.
ABOUT ROXBURY PUBLIC SCHOOLS
Roxbury Public Schools is a K-12 school district preparing the children of today for tomorrow. As a dynamic and thriving district, in partnership with a supportive and collaborative community, Roxbury Public Schools inspires and empowers all learners to flourish as ethical and global citizens in the 21st century. The district serves students throughout Roxbury Township, New Jersey, including the areas of Landing, Kenvil, Succasunna, Ledgewood, Mount Arlington, Port Morris, Flanders, and Wharton. Connect with us online at www.roxbury.org or on Facebook at www.facebook.com/RoxburyPublicSchools.