Return to Headlines
Roxbury Schools Awarded Sustainable Jersey for Schools Certification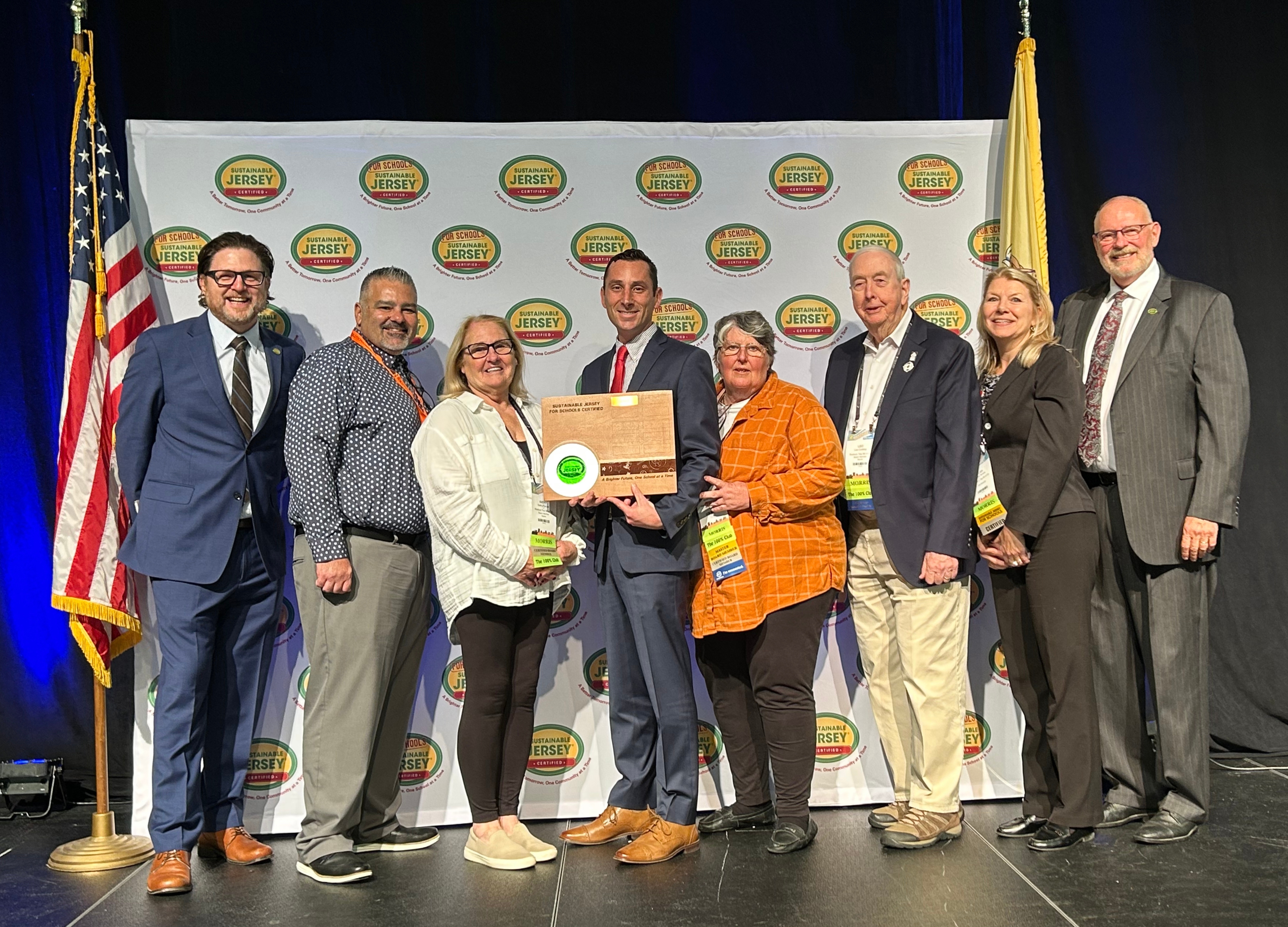 Roxbury Schools Awarded Sustainable Jersey for Schools Certification
ROXBURY, NJ (October 26, 2023) – All seven Roxbury Township Public Schools have met the requirements once again to achieve Sustainable Jersey for Schools certification, bringing the total number of certified schools across New Jersey to 337. Franklin, Jefferson, Kennedy, Nixon, Lincoln/Roosevelt elementary schools and Eisenhower Middle School renewed their Bronze-level certification and for the first time, Roxbury High School achieved Silver-level certification distinction. As leading examples of sustainability excellence, these schools provide outstanding learning opportunities for their students and join an established cohort of recognized schools across the state.
Sustainable Jersey for Schools developed the voluntary certification program in 2014 as a roadmap for pre-kindergarten through twelfth-grade public schools to reach their fullest potential. Each school that is certified at the bronze-level must submit documentation to show it has completed a balanced portfolio of the program's sustainability actions, attaining a minimum of 150 points. The more advanced silver-level requires a minimum of 350 points of sustainability actions.
"I commend the teachers, administrators, staff, parents and students for their commitment and vision for the future. Becoming certified with Sustainable Jersey for Schools is a significant achievement," said Randall Solomon, executive director of Sustainable Jersey. "Certified schools play a crucial role in reducing environmental impacts, improving health and preparing students for the challenges they will face in the future. With 67% of New Jersey public school districts participating and over 300 certified schools, there's an incredible opportunity and potential for change," Solomon added. Sustainable Jersey participating schools serve as learning labs and the certification program supports educators by identifying authentic learning opportunities for students and staff.
Roxbury Public Schools first began its Sustainable Jersey for Schools journey back in 2016 when the Board of Education and administration made the decision to pursue district sustainability and green initiatives by creating and approving various policies outlining its position and efforts.
The district has been continuously working toward becoming more sustainable, and in 2018, all seven Roxbury Schools first earned the Bronze-level certification and then set its sights on silver.
Roxbury Board of Education and administrators received recognition for this achievement on behalf of the schools at the Sustainable Jersey for Schools recognition ceremony at the NJ School Boards Convention this past Tuesday.
"It was an honor to receive the six Bronze and the RHS Silver certification recognition on behalf of our District. Thank you to each of our building leaders, Green Team members and staff for embracing this program and integrating it into the Roxbury culture. Making sustainable practices the norm rather than the exception will provide highly valuable life lessons for our students", shared Roxbury Board of Education President Leo Coakley.
About Sustainable Jersey for Schools
Sustainable Jersey for Schools is a certification program for public schools in New Jersey. It was launched by Sustainable Jersey, an organization that provides tools, training and financial incentives to support and reward municipalities and schools as they pursue sustainability programs. To date, 1,130 schools are participating in the program. Visit the Participating Districts and Schools webpage to see the full list of participating and certified schools and school districts. Sustainable Jersey for Schools has awarded over $3.1 million in grants to schools and school districts.
PHOTO ATTACHED (courtesy of Roxbury Public Schools)
SJFS Recognition Ceremony Oct 24 with district representatives and plaque – (L-R) Randall Solomon (Sustainable Jersey's Executive Director), Joseph Mondanaro (Roxbury Business Administrator), Kathy Purcell (Board Member), Dr. Frank Santora (Roxbury Superintendent), Anne Colucci (Board Member), Leo Coakley (Roxbury Board President), Lisa Ferrare (Roxbury HR Director), and Gary Sondermeyer (SJFS Board President)
###